Texas Cash 5 Results, Intelligent Picks, Lotto Wheels
Updated: Wednesday, December 31st, 1969 07:00 PM
Texas Cash 5 | TX Cash 5 Results | txlottery Cash 5
#
Draw Date
Winning Numbers
Sat Sep 30, 2023
Fri Sep 29, 2023
Thu Sep 28, 2023
Wed Sep 27, 2023
Tue Sep 26, 2023
Mon Sep 25, 2023
Sat Sep 23, 2023
Fri Sep 22, 2023
Thu Sep 21, 2023
Wed Sep 20, 2023
Place mouse over or click to view


Texas(TX) Cash 5 Prizes and Odds

Texas Cash 5 News and Payout for Wednesday, July 9th, 2014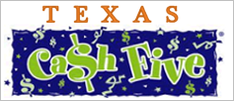 Updated: Wednesday, July 9, 2014 11:10 PM
TX Cash Five lottery News and Payout for Wednesday, July 9th, 2014 Drawing
A single player has won the grand prize from the latest Texas Cash 5 lottery drawing. TX State Lottery officials stated the winning ticket from Wednesday night's drawing - worth $17,684. The winning numbers drawn from Wednesday night, July 9th, 2014 were 17 19 25 33 and 36. The winning ticket holder is highly suggested to sign the ticket, place it in a secure place and contact lottery officials as soon as possible.
Besides the jackpot won on Wednesday, a lot more players took home with big prizes. There were 50 lucky tickets correctly matched 4 of 5 numbers, which won the 2nd prize. 50 winning ticket(s) will collect $159 cash each. In the past 12 months, the second prize payout ranged from $40 to $716 with an average payout in the amount of $341.
In addition, 1529 tickets matched 3 of 5 winning numbers. The 1529 lucky third prize winning ticket(s) which matched 3 of 5 numbers would win $12 cash. In the past 12 months, the third prize paid between $7 and $13 with an average payout $10.
Texas Cash 5 drawings are held 6 days a week Monday thru Saturday at 10:12 PM Central Time. To play Texas Cash 5, select five numbers from 1 to 37. The chances of winning any prizes are about 1 to 8. The chances of matching all five Texas Cash 5 numbers are 1 to 435,897. Texas Cash Five is a pari-mutuel lottery game. The actual prize amounts vary with the total amount of sales and the number of winners in every prize category. All TX Cash 5 prizes are paid in a single cash payment.
With 4 ways to win, the Wednesday night's drawing created 18,657 winning tickets across Texas. Find below the Texas Cash 5 prize payout highlights for the Wednesday's drawing:
1 lucky winner matched 5 of 5 and won $17,684. In the past 12 months, tickets of this prize level in the drawing of Texas Cash 5, won a minimum of $6,068 to max $21,163. The average prize payout of this prize tier was $16,838.
50 winners matched 4 of 5 and won $159 each. In the past 1 year, winning tickets of this prize tier in Texas Cash 5 drawing, won at least $40 to max $716. The average payout of this prize tier was $341.
1529 winners matched 3 of 5 and won $12 each. In the past 12 months, tickets of this prize level in the drawing of Texas Cash 5, won from $7 to $13, with an average of $10 payout.
17077 winners matched 2 of 5 and won $2 each. In the past year, tickets of this prize level in Texas Cash 5 drawing, won a minimum of to max . The average payout of this prize tier was .
Click here for detailed information of Texas Cash 5 payout and news.
Texas Cash 5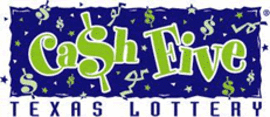 Texas Cash 5, a game which is part of the Texas Lottery, was established in the year 2002. It is a very lucid game which can be played easily.
All you have to do in Texas Cash 5 is to choose five numbers from a group of 37 balls.
Drawings are carried out at 10:12 pm from Monday to Saturday. There is no sale of ticket from 10:00-10:15 pm. Texas Cash 5 are procurable at an affordable prize of $1.
The Drawing machine of Texas Cash 5 use balls which are in the type of ping pong.
Texas Cash 5 How to Play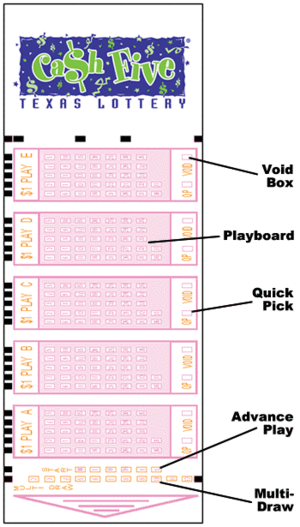 Visit your nearest Texas Cash 5 retailer.
Once you convey your wish to play the Texas Cash 5, the retailer would give you a play slip. Obtain a play slip from the retailer.
The Texas Cash 5 play slip is a card that can be read optically.
It is compulsory that the play slips be marked manually. Only a ticket that is generated from a manually marked play slip is valid.
The Texas Cash 5 play card provided to you consists of five groups namely A, B, C, D, and E. You get a chance to choose from 1 to 5 numbers from 37 numbers. Each group will need a $1. Test your luck where there are chances of winning maximum of six times a week.
Mark your five chosen numbers using pen or pencil which are black or blue in color. In case you make a mistake while marking, make use of the VOID box instead of erasing.
In case you are not able to decide the 5numbers, you can use quick pick, where the computer randomly chooses the numbers for you.
In advance, you can play up to 12 drawings.
For this, you need to mark accordingly on the play slip.
While marking on the pay slip, see that you use only black ink or blue ink pens. Other colours are not valid.
Once you have ensured that you have marked your Texas Cash 5 pay slip correctly, hand it over to the retailer along with $1.You would then be given a ticket. This ticket you receive also acts as a receipt.
An important point to be noted is that, for Monday, spot the letter M, for Tuesday select T, for Wednesday choose W, for Thursday mark Th, and mark F for Friday.
Check the correctness of the ticket you have received for the date, the numbers you have placed bet on, draw details and the amount paid for the ticket.
Once you have ensured the correctness of your ticket, be sure to place your signature on the back side of your ticket. A ticket being placed for a claim, if unsigned, can be rejected.
It is to be noted that a Texas Cash 5 ticket that is once sold will not, under any circumstance, be cancelled.
Each and every draw of Texas Cash 5 will be conducted in the presence of a public accountant who is both certified by the relevant authorities and acts independently from the lottery management. The accountant would also examine the equipment and accessories before and after each and every draw.
Prize payment is in cash mode only.
Texas Cash 5 tickets are not available during the break period which is between 10 pm to 10:15 pm.
There is no Texas Cash 5 game on Sundays.
More About Texas Cash 5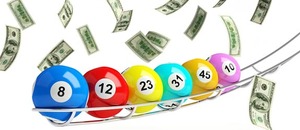 The draw of Texas Cash 5 lottery game is conducted using a machine that has balls for rolling. The highest level of security is built-in to ensure impartiality. It is held in Austin, Texas. The Texas Cash 5 draw is as webcast live.
Eligibility
The players should have attained the age of 18, minimum.
Prizes
You may use the services of the Texas Cash 5 retailer or the Texas Lottery website to check if you have won a lottery.
If more than one person wins the top prize, the same is shared equally.
The Pari-Mutuel method is followed for prizes.
If the chosen Texas Cash 5 numbers are all exact, you win the top prize - $ 20,310.
Odds of winning the game is 1:435,897
If four chosen Texas Cash 5 numbers are accurate, you win an amount of $123. If your numbers are considered as top prize, then you win an amount of $395.
Odds of winning four numbers are 1:2724.
If three of your Texas Cash 5 numbers are perfect, then you get $11 as prize.
Odds of winning the game are 1:8
If two of your chosen Texas Cash 5 numbers are correct, then you win an amount of $2
Odds of winning are 1:9
Prizes of Texas Cash 5 depend on the total purchase of tickets for each draw divided into two.
Fifty percent of the fund is contributed to the state and another fifty percent is distributed to the winners.
Payment
The prize money up to $599 may be collected at the retailer where you won.
Prizes money from $600 to $1,000,000 may be collected at any of the many Lottery Claim Centres. This should be accompanied with a Texas Lottery claim form.
Prize money above $1,000,000 has to be collected from the Texas Lottery Headquarters which is in Austin.
The 1st prize if Texas Cash 5 that is the jackpot prize is paid in cash that too the whole amount in one shot.
You must claim you prize within 180 days from the date of the draw you won.
Draw Test
Texas Cash 5 games have a test procedure prior to the official draw. This procedure ensures that the machines used for the draw are in good working condition. It also confirms that the balls are actually drawn randomly.
Normally 4 such tests are conducted before every actual draw. In case the test does not meet the preset conditions, the whole ball sets are changed, just like a pack of cards is changed in a card game.
This is done because core values of Texas Lottery that are Integrity, Responsibility, Innovation, Fiscal Accountability, Customer Responsiveness, Teamwork and excellence.
The objective of Texas Lottery is to generate revenue for the government of Texas through legal and ethical means.
Texas Cash 5
SUN

MON

TUE

WED

THU

FRI

SAT


Next Draw: Mon Oct 2, 2023